On December 3, 2005 was held of the tournament-supershow of the bodybuilding
"Zdorovyak-2005" ("A Healthy-2005") in the Kharkov
Competition on the powerlifting from 200 kg (strongman)
championship also included competitions of the strongman of Kharkov in a category "Laying bars from 200 kg". The winner squeezes out a bar laying, not tearing off a basin from a bench. This usual exercise of sports halls, but with high loading. The case of a bar of identical weight is won by(with) the sportsman with a smaller body weight. To the most senior participant of competitions the Mr. Meh old of 56 years (dark blue costume were executed, has squeezed out 205 kg), our veteran powerlifting has received a special prize from the sponsors.
I place - Sergey Gorkov, 225 kg (black sweater, Kharkov).
II place - Vasiliy Mezerya, 225 kg (dark blue body stockings, Kharkov).
III place - Evgeniy Pavlov, 210 kg (white sweater, Kharkov).
The judge and leading of competitions - strongmans Mihail Starov, strongest man of Kharkov and Ukraine, champion of the world on the powerlifting, on a photo below at the left.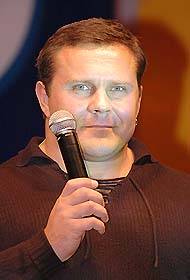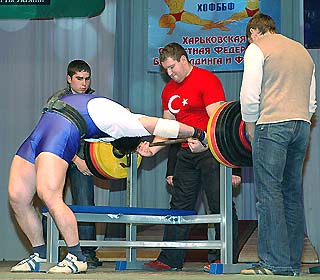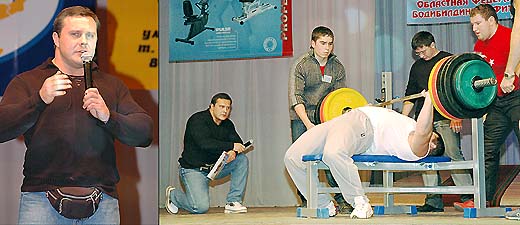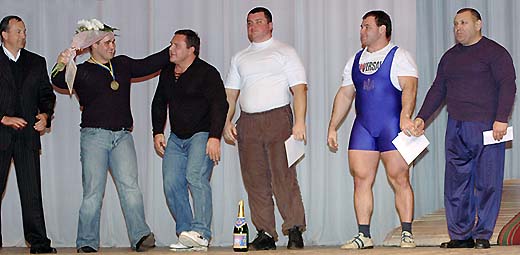 On a photo below: strongest (strongman) and most beautiful (bodyfitness), ceremony of rewarding of the winners and champions.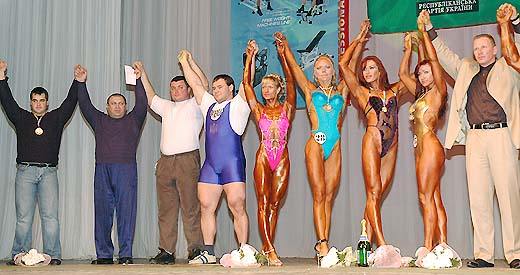 A photos of the tournament of the bodybuilding (Kharkov, Ukraine)