A photos of the tournament "Cub of the Kharkov-2006" (22.04.2006)
Organizers and conducting, general information of the tournament
22 April, 2006 the championship of the bodybuilding, bodyfitness and fitness "Cub of the Kharkov-2006" 5 weight categories on man's bodybuilding and absolute category on female bodyfitness were submitted which already traditionally are represented by the Kharkov regional federatiof the bodybuilding and fitness. The finalists and participants of a championship (modular team of Kharkov from 14 sportsmen) have gone on Cub of Ukraine-2006 and adequately have presented native city, having borrowed 2 teams place and having won 10 medals (greatest quantity of medals for 1-2-3 prize-winning places).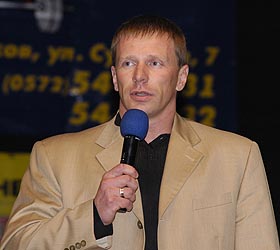 Before the beginning of competitions with an introductory greeting have acted the ex-president Sergey Orlov (on a photo at the left) and honourable visitor Andrey Starodubcev (on a photo at the left), President of Advice national Federations of Pankration of Ukraine, a official partner.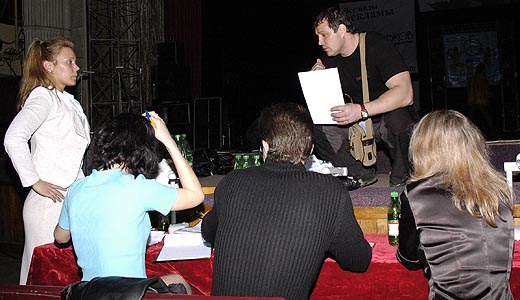 In photos at the left - the main judge of competitions and chairman of judicial board Natalya Vetrova, a championon of female bodyfitness prepare to arbitration before the beginning of competitions. The maintenance objective and unbiassed arbitration of competitions is one of the main and priority directions of activity of federation.
The visitors of the tournament of "Cub of the Kharkov-2006" the pleasant innovation for the first time in the Kharkov the competitions on man's bodyfitness (classical bodybuilding) and man's fitness (estimation of an athletic constitution and acrobatic athletic any program) were carried out.
A photos of the tournament "Cub of the Kharkov-2006" (22.04.2006)