October 29-30, 2005 in Kiev the championship of Ukraine (version of IFBB)
Natalya Vetrova, Ukraine, bodyfitness (best photos)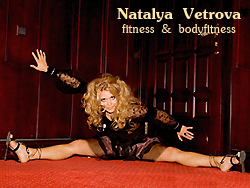 Website http://orlov.kharkov.ua/eng/vetrova
We offer you a womanly portofolio of one of the conducting Kharkov sportsman of the bodybuilding and Fitness, trainer and champion of Kharkov and Ukraine Natalya Vetrova as model.
Natalya Vetrova there is a sportsman, Chairman of Judicial board and main Judge of the Kharkov regional federation.
The womanly photosession the professional sportsman in original style is submitted to your attention. You can download on the computer files of photos 15 x 21 sm and print in a photostudio (for a private collection). It is offered also to you download of wallpapers for the personal computer (free). Pleasant viewing and welcome!
October 29-30, 2005 in Kiev the Championship of Ukraine of the bodybuilding and fitness (under the version IFBB) was held, where Kharkov officially sportsmen of the Kharkov regional FBBF for the first time have presented.
In a debut of the Kharkov regional FBBF sportsmens have won five awards. bodyfitness woman more than 164 sm, I place - Natalya Kuzmina (on a photo at the left), II place - Natalya Vetrova. bodybuilding man, up to 80 kg II place - Victor Kapustnik, up to 90 kg III a place - Mihail Kuzmin (on a photo at the left), category "foreman" the veterans II place - Oleg Piskun.