On October 22, 2005 in the Kharkov open championship of region
of the bodybuilding "A Gold Autumn-2005"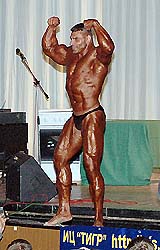 The Kharkov regional federation of the bodybuilding and fitnes Has lead open tournament "A Gold Autumn-2005" (superiority of region under the version of IFBB).
The honourable visitor of the tournament is Anatoliy Kudlay (winner of a spring championship "A Zdorovjak-2005" and "A Brisin's Cup-2005", personal webpage on our website of the Kharkov regional FBBF http://orlov.kharkov.ua/eng/kudlay-2005.htm).
On this page the photos of the indicative program of the bodybuilding of Anatoliy Kudlay (Dnepropetrovsk, Ukraine) are given.
The common information on the championship "A Gold Autumn-2005" > photos
bodyfitness (woman) photos.