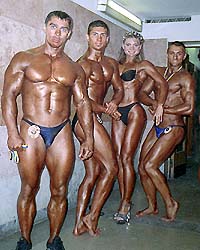 The Kharkov federation of the bodybuilding and fitness and International police association IPA with assistance a Civil forum "We shall unit Ukraine" have lead open tournament "A Gold Autumn-2005" (championship of Kharkov region, the version of IFBB).
The tournament was visited more by than 700 visitors, the free places in hall almost were not. Was representative assembly of the participants in 4 weight categories and absolute categories.
Distinctive feature of a championship became a very warm and sincere atmosphere in a hall and objective arbitrators. All winners of competitions have received the diplomas and prizes from the sponsors.
On a photo at the left - participants of superiority of area before performance. On a photo below at the left - judicial board also stay of a championship. On a photo below on the right - for the first time in Ukraine the championship of the bodyfitness among the women was carried out. The charming ladies have caused the raised interest, long applause, delight, admiration and attention of an audience.
The chapter of federation Kharkov FBBF - Sergey Orlov (on a photo in a light costume). In rewardings the winners also took part the chapter of Advice of Ukraine Pankration Athlima Federation Andrey Starodubcev.